Queensland Floods - Settlement Administration
Overview
In May 2021, the NSW Supreme Court approved a partial settlement with Sunwater and the State of Queensland, who are two of the three defendants. The value of the partial settlement is $440 million and covers 50 per cent of the liability for the losses suffered by group members.
The Court has appointed Maurice Blackburn as the Administrator of the Settlement Scheme. The Settlement Distribution Scheme (SDS) has been approved by the Court and establishes who is eligible to receive compensation and how the settlement will be distributed. The SDS is designed to provide a fair and reasonable process for all participants.
In the following sections, we provide more information about the overall process for distributing the settlement.
The Settlement process
1. Confirm details of the claim
We will ask you to confirm your details and your Claims. We will also seek some additional information from you. We may need to contact you several times.
2. Calculate the flood adjustments
Using a methodology approved by the Court, we will calculate the losses you would have incurred if the defendants were not negligent. 
3. Loss Assessment and Fast Track
A loss assessor will be engaged to assess losses for your Claim. If you qualify for the Fast Track assessment, you may choose this quicker assessment process.
4. Rights of Review 
We will seek your approval at multiple points during the assessment process. You also have the right to review your assessment during the settlement process.
5. Payments and Adjustments
We aim to make payments as soon as is practicable. You may qualify for a Fast Track assessment, but we must follow the settlement rules to ensure the process is fair.
Frequently Asked Questions
Maurice Blackburn's class action
record is second to none.
We are the only Australian class actions firm to deliver $100M+ settlements to clients in shareholder and listed securities actions, and have done so on seven occasions.
We've recovered in excess of $3 billion for wronged clients since the inception of our class actions practice in 1998.
Listed securities class actions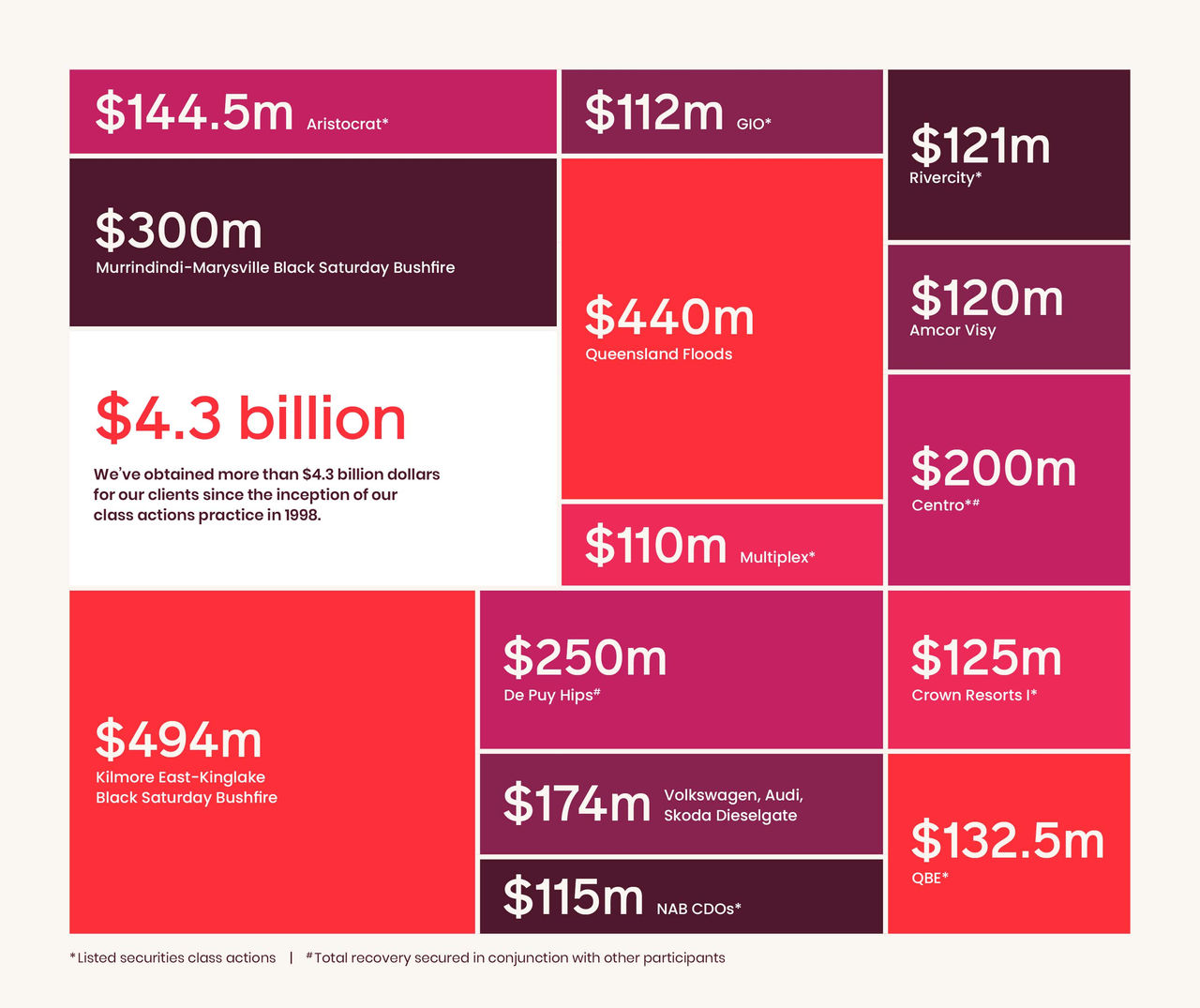 Australian leaders.
Our reputation for excellence in class actions is unparalleled, increasing our chances of:
Better returns
Faster recovery
Lower cost to clients
It doesn't cost you anything to know where you stand