Roundup class action
Maurice Blackburn is conducting a class action against Monsanto on behalf of all people who have been diagnosed with non-Hodgkin lymphoma (NHL) by reason of using or being exposed to Roundup or Monsanto-branded herbicide products that contained glyphosate (Roundup Products) within Australia.
We allege that Monsanto was negligent in selling Roundup Products which they knew (or ought to have known) were carcinogenic and increased an individual's risk of developing NHL. We also allege that the Roundup Products had a safety defect and were not of acceptable quality under consumer protection legislation.
Register now
Case updates
The class action was launched on 8 April 2020. On 1 May 2020 the Federal Court determined that the class action run by Maurice Blackburn would be heard before any other class action about Roundup.
Key dates
Registration is open.
Am I eligible to register for the Roundup class action?
You are eligible to register in the Roundup class action if you:
Used or were exposed to Roundup Products within Australia between July 1976 and October 2020
Have been diagnosed with non-Hodgkin lymphoma (NHL).
Alternatively, you are eligible to register if you are:
an executor/administrator, beneficiary or a person with an interest in the estate of a deceased person who met the above criteria before they passed away; or
a dependent of a person who currently meets or previously met the above criteria. 
How do I register for the Roundup class action?
You are able to access the online registration portal by following the "Register Now" link at the top of this page. On the registration portal, you can register your details and will be provided an opportunity to retain Maurice Blackburn to represent you in the class action.
Want to find out more?
Please see below some frequently-asked questions about the case and links to key documents.
If you would like further information regarding the class action, please contact us at Roundup@mauriceblackburn.com.au or on 1800 519 743
Frequently Asked Questions
Maurice Blackburn's class action
record is second to none.
We are the only Australian class actions firm to deliver $100M+ settlements to clients in shareholder and listed securities actions, and have done so on seven occasions.
We've recovered in excess of $3 billion for wronged clients since the inception of our class actions practice in 1998.
Listed securities class actions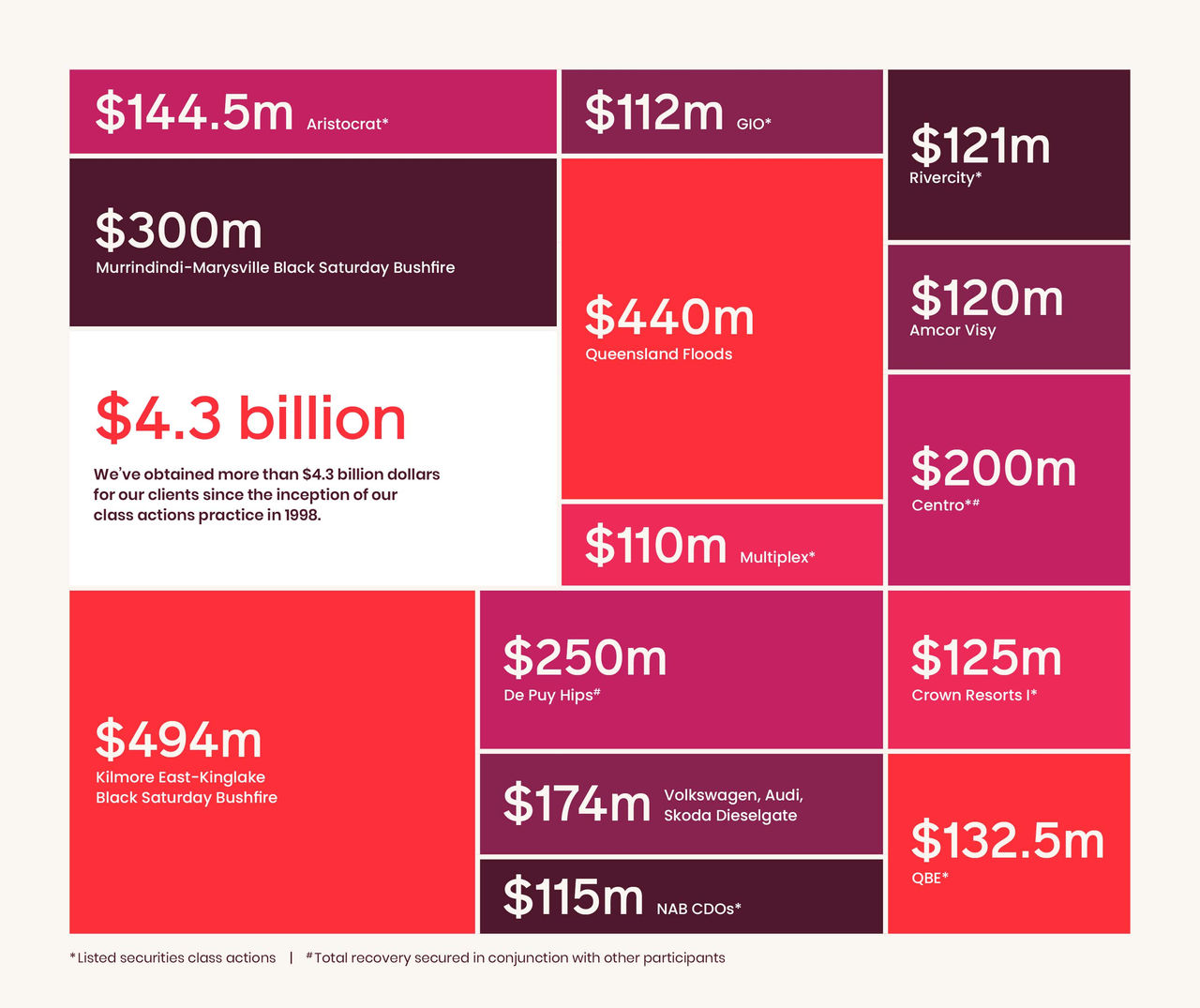 Australian leaders.
Our reputation for excellence in class actions is unparalleled, increasing our chances of:
Better returns
Faster recovery
Lower cost to clients
Andrew Watson
National Head of Class Actions, Melbourne
"I'm an experienced litigator in class actions, particularly for shareholders who have been victims of corporate misconduct."
Lee Taylor
Principal Lawyer, Melbourne
"I am committed to seeking justice for everyday Australians."
Lorne Franks
Senior Associate, Melbourne
"I am inspired by the strength and fortitude of our clients in the face of the unfair hand they have been dealt."
It doesn't cost you anything to know where you stand