In the journey towards equality before the law for all Australians, the achievement of marriage equality for same-sex couples will be remembered as a human rights victory that changed history. But it's critical we acknowledge that the story of LGBTI rights in Australia, and the effort in achieving them, does not end here.
LGBTI equality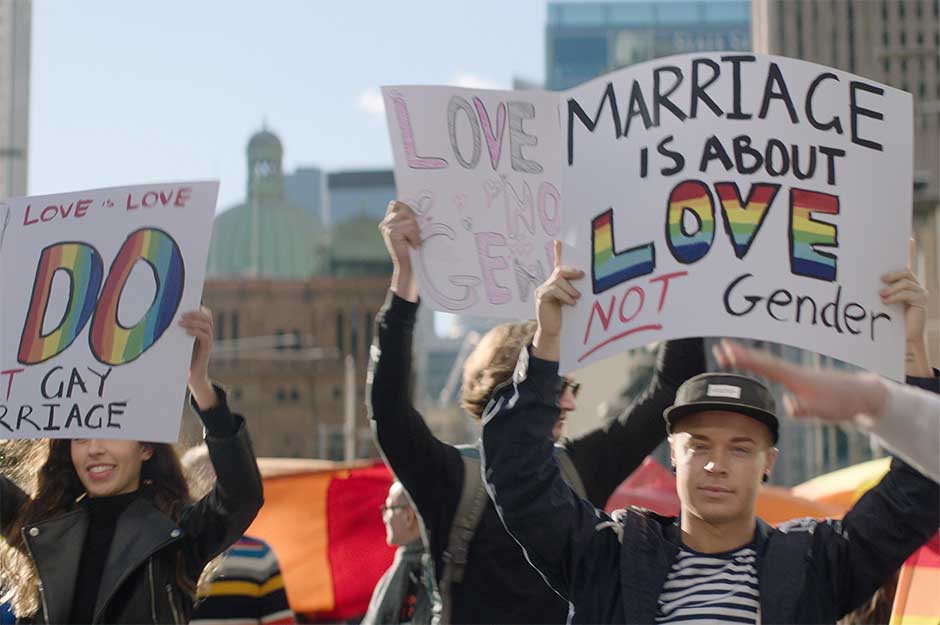 There is still work to be done to protect and advance the rights of LGBTI Australians in workplaces and communities across Australia. Those rights still include access to compensation and support benefits like superannuation, wills and estates, ending discrimination and bullying in the workplace and guaranteeing protection against sexual harassment and unfair dismis

Our Social Justice practice area is also committed to ensuring the path to freedom and equality continues for transgender, intersex and queer communities so that everyone has the protections and freedom to be who they are and participate in a rich and rewarding life in their places of work and communities they live.
For the LBGTI community, the battle for equality that entered the public consciousness via a protest march on the streets of Sydney 40 years ago, continues today. We acknowledge this and stand committed to ensure that the law is applied to equally and fairly to LBGTI Australians, everywhere.
The same-sex marriage postal vote delivered a resounding yes in November 2017. While same-sex marriage became legal in Australian on December 9, 2017, the LGBTI community had been forced to live through an unnecessary and decisive campaign that was in part funded by the Federal Government.
We recognised the damage that such a campaign could cause the LGBTI community and offered pro-bono legal advice to members of the LGBTI community who believe they have been vilified because of the same sex marriage postal survey.

Between 2005 (when John Howard changed the marriage act in parliament) and 2017, 27 bills had been presented to parliament to legislate same-sex marriage. None succeeded, and the governing Liberal/National coalition almost tore itself apart over the issues under the leadership of Tony Abbott and then Malcolm Turnbull.
To manage his divided governing party, Tony Abbott agreed with in 2016 to hold a non-binding same-sex marriage plebiscite. It was at this time that Maurice Blackburn announced its offer of pro-bono legal advice to the LGBTI community.
When Malcolm Turnbull (as Prime Minister) changed the government's position to hold a non-binding postal survey, we reiterated our commitment to pro-bono advice.
Everyone has the right to be equal, and we will fight for your rights.
We're here to help
Office locations
We're here to help. Get in touch with your local office.
Select your state below
VIC

QLD

NSW

ACT

WA

SA

TAS

NT
We have lawyers who specialise in a range of legal claims who travel to Australian Capital Territory. If you need a lawyer in Canberra or elsewhere in Australian Capital Territory, please call us on 1800 675 346.
We have lawyers who specialise in a range of legal claims who travel to Tasmania. If you need a lawyer in Hobart, Launceston or elsewhere in Tasmania, please call us on 1800 675 346.