Slater & Gordon – Third-Party Shareholder Class Actions
Maurice Blackburn is conducting two class actions on behalf of Slater & Gordon (ASX: SGH) shareholders:
A class action against SGH's former legal adviser Arnold Bloch Leibler (ABL Class Action); and
A class action against SGH's former auditor Pitcher Partners and UK-based auditor Ernst & Young LLP (Pitchers Class Action).
Register now
Case updates
We are currently preparing for mediation and trial (dates below). Depending on whether the current restrictions in Victoria continue, it is possible that both mediation and trial will occur via videoconference rather than in-person.
Key dates
12 October 2021 – Joint mediation. 9 November 2021 – Trial of both cases begins.
Am I eligible to register for the class actions?
You are a Group Member of one or both of the two class actions if you acquired an interest in fully paid ordinary shares in SGH at any time between:
30 March 2015 and 24 February 2016 (for the Pitchers Class Action); and
30 March 2015 and 25 November 2015 (for the ABL Class Action).
If you meet the above description and suffered loss or damage by reason of the conduct of the respondents named in the class action, you are a member of the class, regardless of whether you still hold shares or whether you also purchased additional SGH shares prior to or after that period.
All persons who were registered as Group Members in the original class action against SGH (Settled SGH Class Action) will automatically be registered as Group Members in the ABL Class Action & Pitchers Class Actions, (regardless of whether they previously opted out of the Settled SGH Class Action).
It is possible that prior to the trial the Court may make orders requiring Group Members to register their claims to be eligible to participate in the class actions. If you are a Group Member but have not yet registered, we encourage you to do so to ensure that you remain eligible.
About these class actions
The Pitchers Class Action and ABL Class Action are being brought by the Applicant, Mr Matthew Hall, on his own behalf and on behalf of all persons who are Group Members.
In the Pitchers Class Action, the Applicant alleges that in 2015 Pitcher Partners, SGH's auditor for the 2015 financial year, and Ernst & Young LLP (EY UK), the component auditor of SGH's UK businesses, failed to identify or communicate risks around the likelihood that the $1.1 billion goodwill asset associated with the acquisition of the Professional Services Division (PSD) of Quindell plc was impaired. The result of this is alleged to be that SGH's FY15 Financial Report and/or FY15 Appendix 4E were materially misstated.
The ABL Class Action is about the Entitlement Offer announced to the ASX on 30 March 2015, which was used to raise capital from SGH shareholders to finance the acquisition of the PSD. The Applicant alleges that Arnold Bloch Leibler (ABL), SGH's legal adviser, engaged in misleading or deceptive conduct and / or was negligent in performing its role as, amongst others, a member of the Due Diligence Committee in relation to the Entitlement Offer.
Further information about the proceedings, including the Statements of Claim, are available to be viewed in the Resources & Links section at the bottom of this page.
How do I register for the class actions?
You are able to register for the class action by accessing the online registration portal here.
On the registration portal, you can register your details and will be provided an opportunity to retain Maurice Blackburn to represent you in the class action.
Want to find out more?
Please see below some frequently-asked questions about the case and links to key documents.
If you would like further information regarding the class action, please contact us at SGH@mauriceblackburn.com.au, on 1800 572 151 (+61 1800 572 151 for international callers) or by mail to the address below:
SGH Class Action
Maurice Blackburn Lawyers
Level 21, 380 Latrobe Street
Melbourne VIC 3000
Please note that our response to correspondence by post may be impacted by COVID related restrictions in place in Melbourne.
Frequently Asked Questions
Maurice Blackburn's class action
record is second to none.
We are the only Australian class actions firm to deliver $100M+ settlements to clients in shareholder and listed securities actions, and have done so on seven occasions.
We've recovered in excess of $3.6 billion for wronged clients since the inception of our class actions practice in 1998.
Listed securities class actions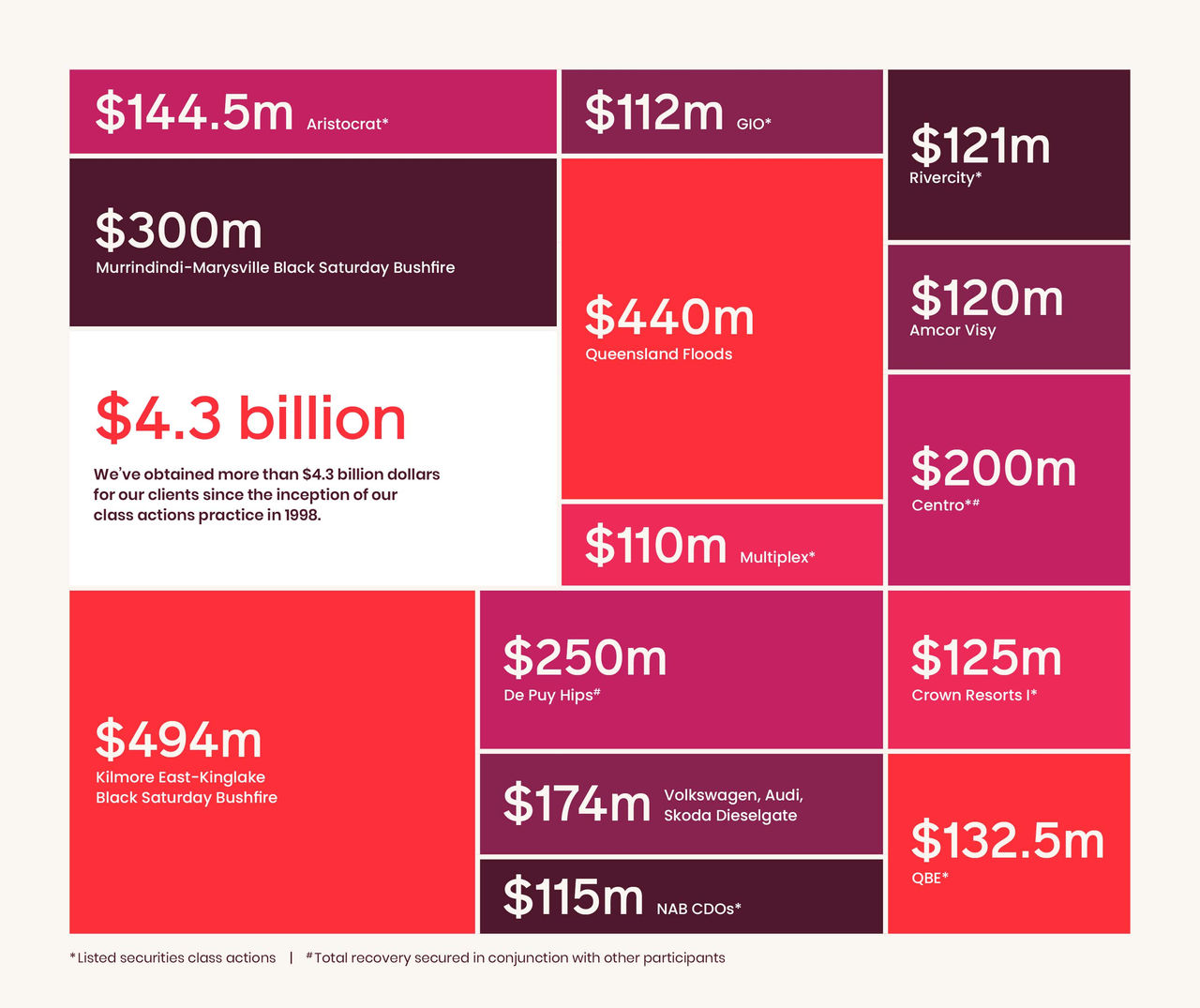 Australian leaders.
Our reputation for excellence in class actions is unparalleled, increasing our chances of:
Better returns
Faster recovery
Lower cost to clients
Andrew Watson
National Head of Class Actions, Melbourne
"I'm an experienced litigator in class actions, particularly for shareholders who have been victims of corporate misconduct."
Lee Taylor
Principal Lawyer, Melbourne
"I am committed to seeking justice for everyday Australians."
Lorne Franks
Senior Associate, Melbourne
"I am inspired by the strength and fortitude of our clients in the face of the unfair hand they have been dealt."
It doesn't cost you anything to know where you stand